Jane Birkin
I've always believed that one's

style

has something to do with the

family

one. Maybe it's biologic, maybe just psichologic, anyways, here's a stylish proof:
Judy Campbelle

was the first STAR of the family. Beautiful and fresh, she started the tradition of acting. She also had a precious voice.
/ Siempre he creido que el estilo de uno tiene algo que ver con el de la familia. Puede que sea biológico, o sólo psicológico, de cualquier manera, esta es una prueba con estilo:
Judy Campbelle

fue la primera ESTRELLA de la familia. Hermosa y fresca, comenzó con la tradición de la actuación. También tenía una voz preciosa.
And she was also the mother of an undeniable beauty, Jane Birkin.

Actress

and

singer

, apart from a style icon (in the sixties and seventees as well as now)
/ Fue a su vez madre de una innegable belleza, Jane Birkin.

Actriz

y

cantante

, aparte de un icono en estilo.
It is amazing how similar is fashion now and then!
/ Es increíble lo parecida que es la moda de ahora y de entonces!
straight t-shirts,

/ camisetas a rayas,
high-waisted trousers
/ Pantalones de tiro alto
lace or crchet dresses
/ vestidos de encaje o crochet
Cool big round glasses
Extremely short black dresses
/ Vestidos negros extremadamente cortos
Transparencies
/ Transparencias
Couldn't it be a photo of a really pretty Cory Kennedy? I love it!
/ ¿No podría ser una foto de una Cory Kennedy realmente linda? ¡Me encanta!
In any photo her essence can be admired
/ En cualquier foto se puede admirar su esencia
Briggitte Bardot Kiss =)
'Oi, lienda,'
'Bella che fa?'
'Bonita,'
'Bonita, ¿Qué tal?'
''But, Belle,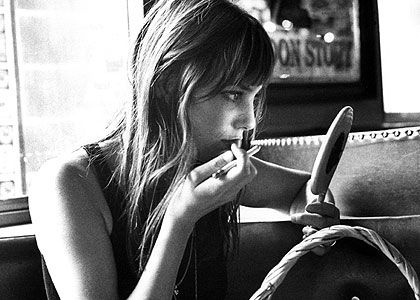 'Je ne comprends pas français'
'So you'll have to speak to me'
'Some other way.'
Birkin and her lover,
Serge Gainsbourg
, were a famous couple of the moment.
/ Birkin y su amante,

Serge Gainsbourg

, fueron una famoso pareja de la época.
beloved picture:
/ foto adorada:
They formed a lovely family
/ Formaron una linda familia
My favourite detail? her basket!!
/ ¿mi detalle favorito? ¡Su cesta!
Lou Doillon
Jane Birkin's daughter

, not a surprise she's a beautiful woman. I'm sure you already know her:

model

and

actress

, she may have inspired a few of your outfits.
/ La

hija de Jane Birkin

, no es una sorpresa que se trate de una mujer bella. Estoy segura de que ya la conocen:

modelo

y

actriz

, puede que haya inspirado alguno de sus outfits.
Street-style
And here's a video that shows that

Lou can also dance

. A

visual poem

directed by Stéphanie Di Gusto. I hope you enjoy it as much as I did.
/ Y aquí tienen un video que muestra que

Lou también puede bailar

. Un

poema visual

dirigido por Stéphanie Di Gusto. Espero que lo disfruten tanto como yo.
Peace and Love,
Penny Lane ♥